---

>32 jaar ingenieurservaring.

Het beste is maar goed genoeg.

---
GoLanTec energietechniek is een geregistreerd installatiebedrijf en modificeert en bouwt energiebesparende zwembaden
Afdekking: tegen verdamping,veilig en geen bladeren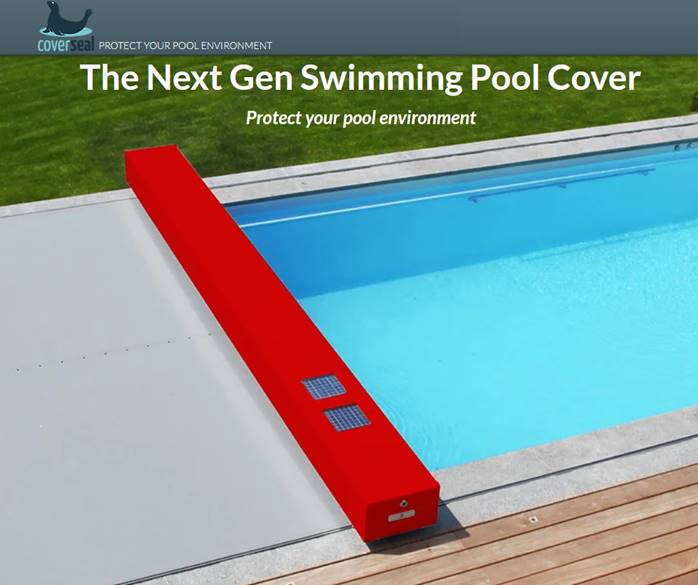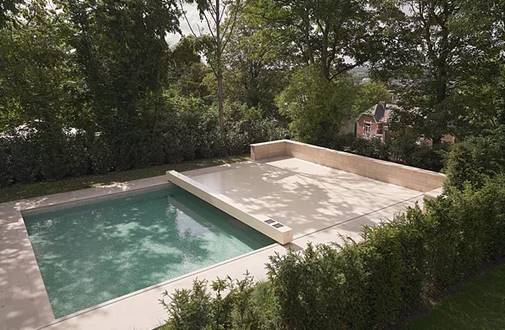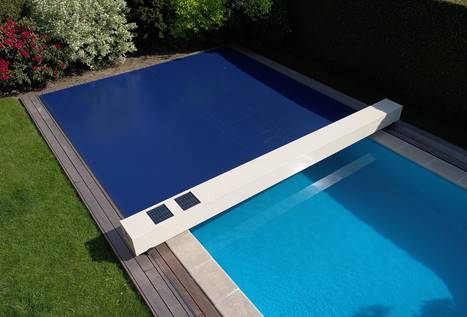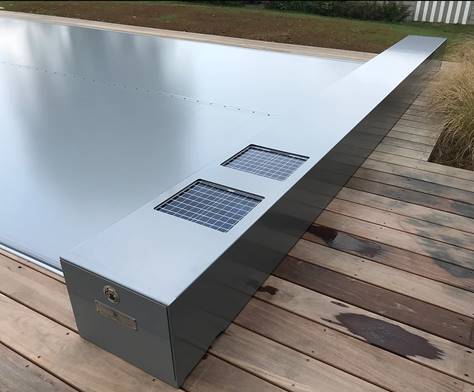 SAFETY
A highly resistant, tensioned membrane guarantees maximum safety. An ultra-flat slider rail guides and seals the cover as it gradually glides over the pool. The system is therefore sealed automatically, removing any risk of the user forgetting to do it.
The Coverseal safety cover complies with the most demanding swimming pool safety standards (French standard NF P90-308).
The equipment is designed down to the very last detail to make sure it is safe for very young children.
Compliance with the standard approved by the Laboratoire National de Métrologie et d'Essais (LNE), France's national testing laboratory.
Remember
"A child can drown in under three minutes; no protective measure is a substitute for active supervision by a responsible adult."
ENERGY EFFICIENCY
Water that's always warmer
Once the Coverseal cover is closed, it does not come into contact with the water in your swimming pool and forms a cushion of air that envelops and protects the pool. It acts as a heat shield stretched above the pool, which is cooler (especially at night-time, when the temperature difference is increased). Coverseal therefore helps to retain the energy stored by the swimming pool during the day.
During the day… Coverseal stops the water cooling down in contact with the breeze.
During the night… Coverseal stops the surface water cooling down in contact with colder air. The heat from solar energy stored during the day is retained, so you can take a dip in the evening or first thing in the morning.
At any time of day… Coverseal limits evaporation, providing a simple, environmentally friendly way to maintain the water level in your pool and control the various maintenance parameters and the pH.
The ideal solution for indoor pools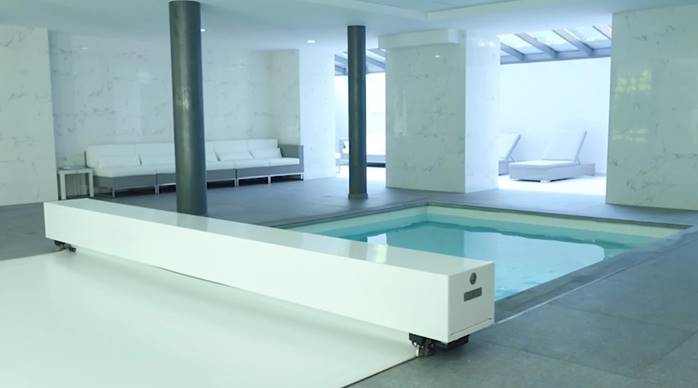 No other flexible cover limits evaporation to the same degree as the Coverseal airtight cover. Specially designed to keep the membrane properly tensioned and sealed, it is the ideal solution for indoor pools.
GREAT LOOK
Coverseal keeps your swimming pool looking good and blends in perfectly with your surroundings.
Designed to ensure the right tension for a perfect finish, it gives your pool an elegant, "haute-couture" look.
The protective membrane (using Serge Ferrari Précontraint technology) and the protective housing for the motor unit, made from powder-coated steel, are available in a wide range of colours.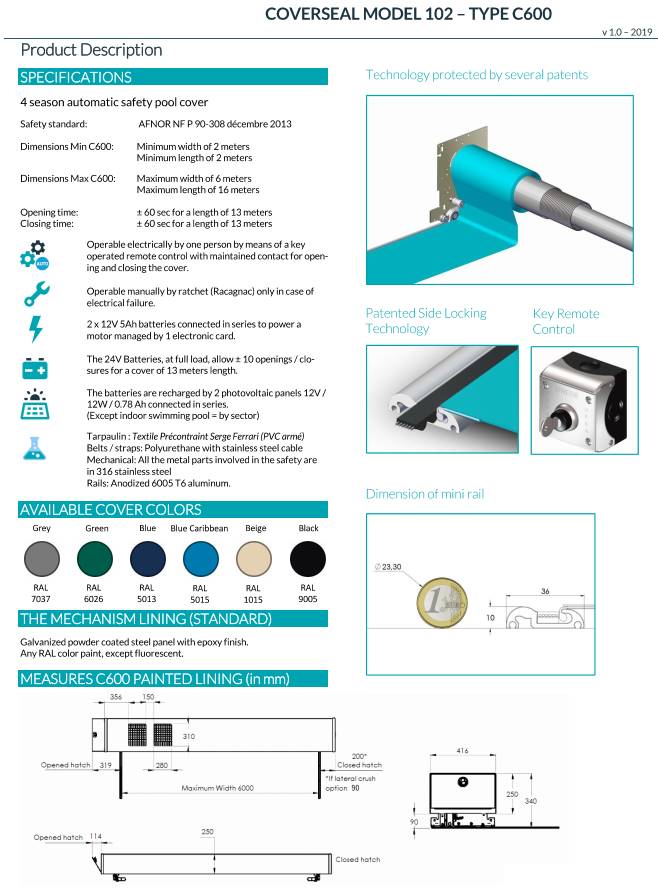 Men gebruikt de afdekking om energie te besparen
Watertemperatuur stabiel te houden
Om verdamping van water en chemicaliën tegen te gaan
Tegengaan luchtvochtigheid in binnenzwembaden en dus de gevolgen van een te natte zwemruimte.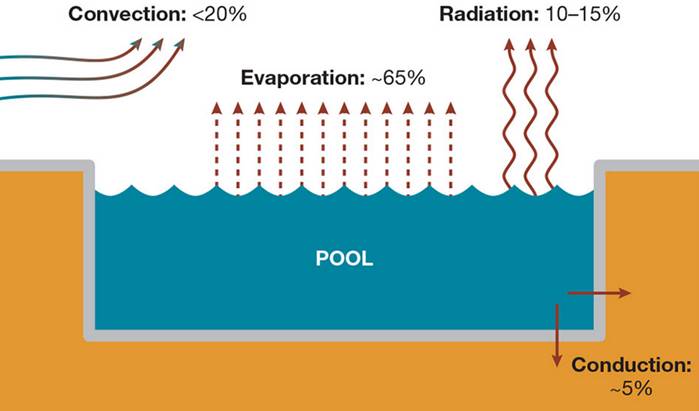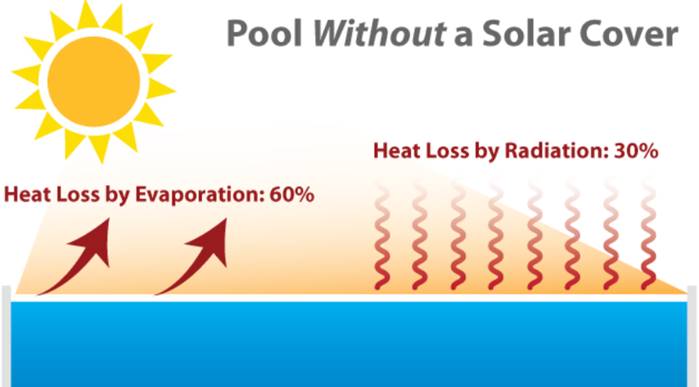 Zie ook :


"Een afgedekt zwembad in de tuin met automatische pH regeling: altijd een beetje veel vakantie zonder files noch parkeerboetes"
"Na een stresserende werkdag, kunnen thuiskomen en een hydromassage. Deze burn-out therapie werkt.
---

Perfecte technologie, daar komt het op aan
---
Versie laatst bewerkt op 21/11/2019