---

>32 jaar ingenieurservaring in industriële en huishoudelijke projecten.

Het beste is maar goed genoeg.

---
Studentenkot of poolhouse WC compact in inox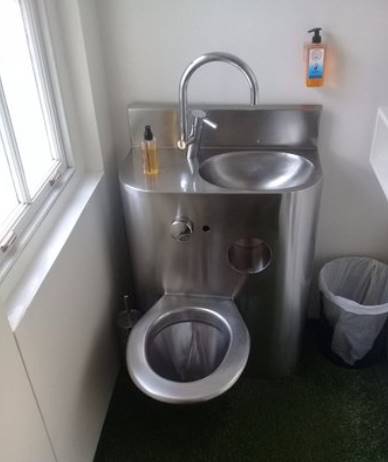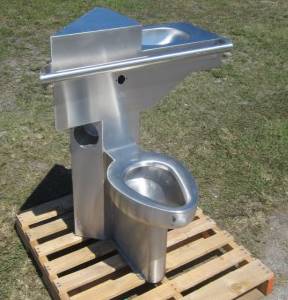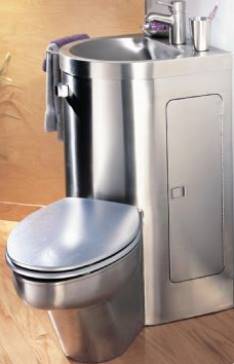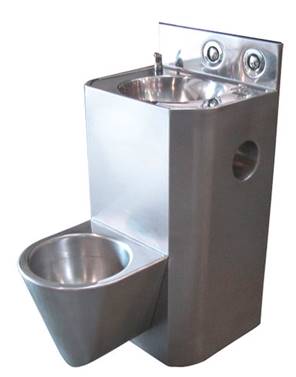 Model1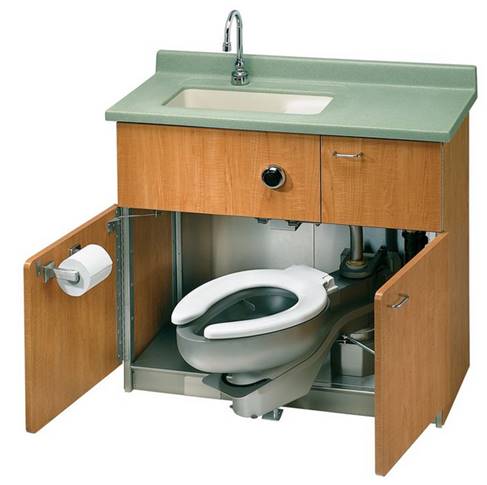 Model2
In oorsprong is de closet-wastafelcombinatie eenheid ontwikkeld voor internaten en gevangenissen. Nieuw is de toepassing van deze unit in eigentijdse sanitaire ruimte, thuis, studentenhuizen of in (semi) openbare gelegenheden.
Groot voordeel van deze unit is dat er op beperkte ruimte veel comfort wordt geboden. De closet-wastafelcombinatie is uitgevoerd in hoogwaardig RVS en bevat wastafel, kraan, closet en geïntegreerde closet-rol opening. Het bestaat uit één geheel, zonder scherpe randen dus erg makkelijk schoon te maken.
Chromium nickel steel WC washbasin combination, satin finish surface, for installing against a wall, with integrated electronic tap components. Invisible fixing with grub screws, lockable inspection opening Mounting stand, material thickness 2 mm with elevated rear wall including wall outlet and piezo button with start/stop function with seamless welded toilet paper roll compartment and seamless moulded wash basin with plastic trap. WC pan, material thickness 1.6 mm with full-length skirting, arranged on the left 45 degrees, bowl rim where nothing can hide with piezo button for WC flushing, flushing certified pursuant to EN 997, horizontal outlet at the back DN 100 With solenoid to connect to premixed hot water or cold water. Condensation water-proof concealed cistern with single flush technology (9 or 6 litres) Supply voltage 24 V DC Including fixing material.

Overall dimensions: 810 x 1050 x 780 (W x H x D)

WC position: on the left
| | |
| --- | --- |
| Gross weight | 69.80 kg |
| Material | Stainless steel |
| Material code | 1.4301 Chrome Nickel steel V2A |
| Net weight | 44.80 kg |
| Overall depth | 780.00 mm |
| Overall height | 1,050.00 mm |
| Overall width | 810.00 mm |
| Type of mounting | Wall mounting |
| Overflow | no |
| Upper edge of basin height | 850.00 mm |
| Outlet size | DN 50 / DN 100 |
| Inlet size | DN 15 |
| Type of toilet seat | no seat |
| Type of WC | floor standing |
| body width | 500.00 mm |
| front access panel | yes |
| floor fixing joggle plate | no |
| pipework material | stainless steel |
| self closing push buttons | electronical |
| toilet roll holder diameter | 153.00 mm |
| shroud design | angled corners |
| soap dish | no |
| spout length | 83.00 mm |
| tap with integrated bubbler | no |
| type of flushing fitting | WC cistern |
| upstand depth | 160.00 mm |
| upstand height | 200.00 mm |
| WC height | 400.00 mm |
| WC position | left |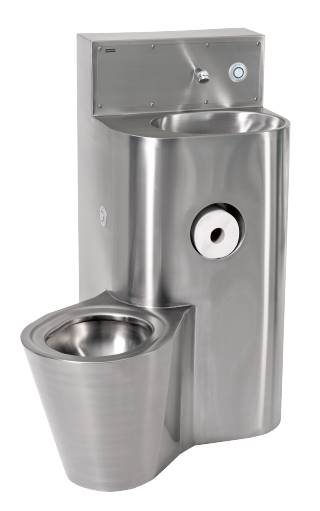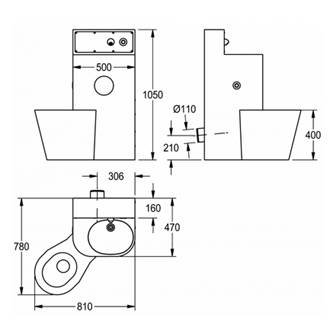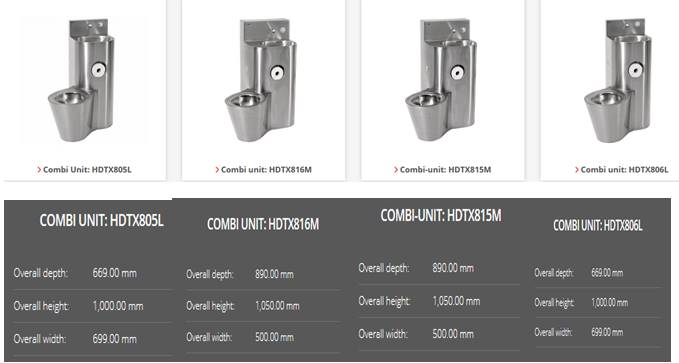 HDTX805L 699 mm
HDTX816M 500 mm
HDTX815M 500 mm
HDTX806L 699 mm
"Nous n'héritons pas de la terre de nos ancêtres, nous l'empruntons à nos enfants" Antoine de St-Exupéry
---

Perfecte technologie, daar komt het op aan
---
Versie laatst bewerkt op 12/2/2018